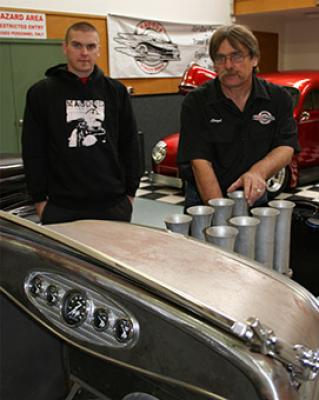 As you will have gathered from our Business Philosophy, as a family business we're committed to the sport of Hot Rodding. We've been involved since 1973 and over that time have built a number of rods including a '37 Ford coupe, '55 F100, '32 Ford roadster, '32 Ford sedan and our '28 Sedan Delivery that attended six Street Rod Nationals. Proof of our belief that street rods should be DRIVEN !
Our current rides are a stroked flathead powered 32 3W coupe, hemi powered 32 roadster and 34 Tudor here in New Zealand, and also a '30 Roadster Pickup that I store in the USA after using it as a Bonneville pushcar and winning the coverted Goodguys 'Stroker McGurk' award at the West Coast Nationals in 2008. Other family projects presently under construction are a '35 Cabriolet, a highboy '28 Roadster Pickup (Nathan), , and a '30 A coupe (Daniel). Tucked away we also have a Dragmaster Dart FED rail that was originally owned and raced by Mickey Thompson, and our future shop truck - a '57 Ranchero.
Our talented staff are into the sport too, including crewing for a dragster.
I was a founder of Tararua Rodders, joined with Hicktown Rodders when I lived in Wellington, and am now a member of Oceanside Street Rods. I'm also a member of Goodguys USA and a regular attendee of their events in the States. 'Magoo' has been my nickname for all the time I have been involved in the sport, was originally coined prior to the US counterpart becoming familiar to NZers, and was further perpetuated in the years I contributed to NZ Hot Rod Magazine on a freelance basis and then edited NZ Street Rodder magazine.
Son Nathan joined the business to help cope with the growth when we built our 1300 sq metre workshop & showroom and is now a key part of the business too.
Magoo's Street Rods Workshop
Setting up the business has been a natural evolution of years in the sport, importing parts for my own projects and helping to source parts for friends. The bottom line is that the cheapest way to source US parts is to personally go and shop there (excluding the travel costs of course!). Anybody with a credit card can also order parts direct but the two hassles are the time delay and freight costs which are the real killer - instances of the freight exceeding the cost of the part are common!
We've gone to some trouble to secure US agencies, carry a good inventory for your convenience, and are constantly restocking and expanding the range. We ship from the USA most weeks which provides some freight economies and we believe we can generally supply product cheaper than if the individual was to order direct. If you don't see listed something you need/want, please give us a call and we will see if we can source it for you, or we may already have it in stock! The final choice of where to source parts from is of course yours as the customer. We do want to provide the best of service so if you've got any problems, tell us.
Our priority to date has been servicing the New Zealand and Australian markets, but now that we are involved in manufacturing also, we periodically also export to United States on a regular basis. Hot Rodding is an international sport so we welcome inquiries from friends all around the world. If you check our gallery you'll see cars belonging to some of our many customers. It is always a buzz helping preople get their dreams on the road.
Finally, we do our best to hold prices, but customers will appreciate the current volatility of the New Zealand dollar against the greenback, plus seemingly endless additional fuel and 'war risk' surcharges imposed by the freight companies and Customs. Accordingly we reserve the right to change listed prices at any time.
Retail is only one part of our business of course. At Magoos we have a very competent and experienced rod building team, and can handle engineering, panelbeating, general fabrication, fibreglassing, electrical and some mechanical work, plus we have a contract painter and upholsterer, so we can literally build a car from start to finish.
Our hourly rate is realistic, and we maintain a regular liason with our customers including detailed photos and accounting to monitor progress on projects. We have satisfied customers from Auckland to Invercargill, and we've even restored one car for a customer in England! Check out our gallery to see the comprehensive range of projects we've tackled for customers. We'd love to talk through your next project to see if we can help with part or all of helping to make the dream come through.
We have hosted a number of customer tours to the States, and hold training seminars with leading American hot rod craftsmen - contact us for dates and details.
We are grateful to be able to feature photos of some of our customers' hotrods on this site. These are changed periodically so if you'd like your car to be a star in the future, send us a photo!
We look forward to helping you with your project.
Street is Neat!
Lloyd & Nathan Wilson
Magoo's Street Rods